Oil Change Hilliard OH

---
If your vehicle needs an oil change near Hilliard, OH, the team at Genesis of Dublin is here to take care of this important automotive service for you. To show you the kind of support you'll receive from our team, we've provided this brief description about our service department. We've also included some vital information pertaining to oil changes in general. Continue reading to learn more.
---
---
Meet Our Automotive Experts
When your vehicle pulls into the service bay, you can be confident it will receive all the care and attention it deserves. The mechanics who'll see to this are factory-trained, certified, skilled, and experienced. They use the latest technologies and techniques to produce precise results every time.
Other Services Included With an Oil Change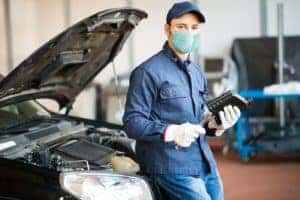 Switching out the oil and replacing the filter aren't the only things that happen during an oil change appointment. Some of the additional items covered at this time include checking all fluids and refilling them if necessary. The belts are also inspected to make sure they're not showing signs of age or excessive wear.
The oil change is also a good time to make sure the battery is still holding a charge and is free of corrosion and leaks. Because rotating your tires on a regular basis is necessary to promote balanced wear for maximum longevity, oil change appointments present an excellent opportunity to take care of this service as well.
The Importance of an Oil Change
Motor oil travels throughout the inside of your engine cleaning, lubricating, and cooling all the various working parts to make sure everything continues to operate at the same high level for a long time. As oil ages, it starts to separate and gather any dirt and debris it happens to encounter. As a result, it loses its effectiveness. Eventually, this process creates a damaging sludge that can prevent your engine from working. Having the oil changed at the proper time prevents this from happening.
When to Get an Oil Change
Exactly when you should schedule your vehicle's next oil change depends on the type of oil used inside your engine. If your car is older, it probably runs on conventional oil. If that's the case, it needs to be changed every 3,000 to 5,000 miles. The synthetic oil found in the engines of newer cars should be replaced around every 6,000 to 7,500 miles.
---
---
Oil Change Hilliard OH
Any member of our team will be happy to answer your questions concerning the above information about oil changes. You're welcome to give us a call, send us an email, or pay us a visit at your earliest convenience.
If you'd like to have us perform your car's next oil change, contact the team here at Genesis of Dublin
---