Lease a Genesis GV80

If you're a driver in Columbus, Dublin, or Powell, Ohio, who'd like to know what it would be like to lease a Genesis GV80, the Genesis of Dublin team is here to help. The folks here at our Dublin car dealership have drawn up the following information for you. While you're following along, you'll get a look at a few attributes that make this luxury SUV such a standout as well as some of the benefits of automotive leasing in general. Continue reading to see what both have to offer.
The Genesis GV80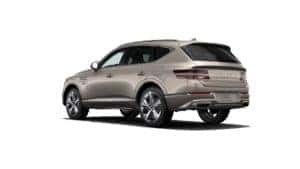 There's a lot of convenience to go around inside the GV80. The standard power hands-free smart liftgate with auto open is one item bound to make a difference. It makes it easier to access the cargo area when your hands are full of things like shopping bags and luggage.
The available three-zone climate control sees to it that you and your fellow occupants can enjoy the individual temperature settings you prefer without interfering with anyone else's comfort.
The available heated steering wheel keeps your hands toasty warm during the colder months or when you start driving on a particularly cool morning.
Top Reasons Why Leasing Might Be Right for You
One of the first advantages to leasing likely to get your attention is that you won't pay for the vehicle's entire value. Instead, you'll only be financially responsible for the length of the lease itself. The result? Generally, the down payment and monthly payments are considerably lower than if you were purchasing the vehicle through a loan. There's even the possibility you won't have to provide a down payment at all.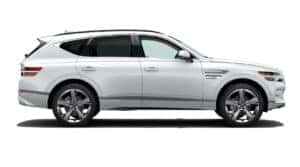 Leasing also means there's a good chance you won't have to deal with repairs. Since the car you'll be leasing is new and under warranty, likely the only time your vehicle will be in the service center is to have routine maintenance items completed.
When your lease term is over, you won't have to trade in the vehicle with less value as you would if you'd purchased it. You'll simply return it to the dealer and pick out the next car you'd like to lease.
We Offer Hands-on Assistance in the Finance Department
The specialists you'll meet in our finance offices are just as knowledgeable as they are friendly. When you sit down with them to discuss your Genesis lease options, they'll carefully walk you through each step of the process to make sure you have a firm grasp of each one.
Genesis Dealer near Me
Now that you've learned a bit about the GV80, leasing in general, and the sort of support you'll have at your disposal here at our dealership in Columbus, it's time to pay us a visit. Feel free to swing by today to take a test drive out on those Columbus, Powell, and Dublin, OH, area roads and inquire about signing your GV80 lease. Contact us today!