Genesis G80 MPG

When you're looking for your next luxury sedan, add the 2021 Genesis G80 to your list. Not only does the G80 focus on style and comfort but also on fuel economy. With this sedan, you'll spend less time at the gas station and more time getting where you want to go.
So, drivers living around Columbus, Dublin, or Powell, OH, can learn more about the G80's fuel economy with this review put together by the team at Genesis of Dublin.
Genesis G80 Fuel Economy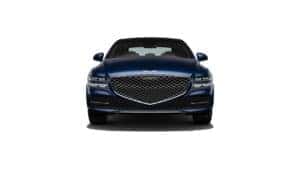 The Genesis G80 has two engines to choose from. The first engine is a 2.5L turbocharged 4-cylinder engine that produces 300 horsepower and 311 lb-ft of torque. The G80 does not sacrifice fuel economy for power with an EPA-estimated 23 city/32 highway MPG when equipped with Rear Wheel Drive.
If you're looking for more pep, the second engine is even more powerful than the first option. The 3.5L twin-turbo V6 engine has an output of 375 horsepower and 391 lb-ft of torque. With this engine, you'll get an EPA-estimated 19 city/27 highway MPG with Rear Wheel Drive.
G80 Drive Types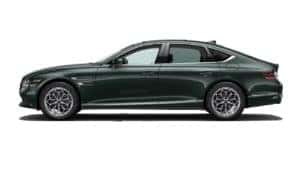 When you're shopping for the G80, you'll have the option to combine the 8-speed automatic transmission with either Rear Wheel Drive or available All Wheel Drive (AWD). The AWD option will give you a sportier driving experience and the ability to have better traction when it's raining or snowing. This AWD system will also use a Rear-Wheel Drive bias so your drives will be more powerful and dynamic.
If you want to change how you drive depending on the day, consider using the standard Intelligent Drive Mode. This system works with your transmission, throttle, and suspension so you can change up your driving. You'll have five modes to choose from: Comfort, Smart, Eco, Sport, and Custom.
Craving a top-notch drive quality? The available Electronically Controlled Suspension may be for you. This suspension system monitors the road ahead of you and makes adjustments to your vehicle's suspension for a more comfortable drive.
How to Maximize Your Fuel Efficiency
When you're out on the road, you'll want to get as much fuel economy as possible. To help you do that, our team has put together a couple tips how to maximize your fuel efficiency.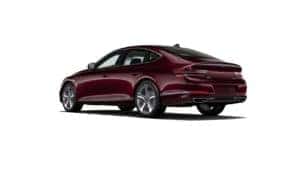 The first tip is to keep your Genesis G80 up to date with all of its regularly scheduled maintenance. When you bring in your vehicle for maintenance, you'll not only keep your vehicle in top shape, but you'll also enable us to catch any small issues before they become big problems.
Another tip is to use cruise control when you're on the highway. Cruise control helps your vehicle maintain one speed, which saves gas because you're not decelerating and accelerating as often.
Here are a few extra tips to help you save some gas:
Avoid excess idling
Follow the speed limit
Remove excess weight
Test Drive the Genesis G80
Fuel economy is an important factor when choosing your next vehicle. The luxurious 2021 Genesis G80 has fuel economy, style, and so much more to offer. For drivers around Columbus, Dublin, and Powell, OH, interested in test driving the G80, visit Genesis of Dublin. Our team will get you behind the wheel and answer any questions you have. Contact us today!